CREATE UNIQUE LIVING SPACES
NOËL & MARQUET design elements provide you with solutions for creative interior design to turn every space into your own living space – the perfect solution in fact, for every taste and every style.
Let us give some inspiration!
Not only decorative but functional, forming a visual transition between wall and ceiling.
Covings, dado rails, skirtings and wall decorations can be combined with direct or indirect lighting to create a cosy ambiance.
Decorate your walls with ARSTYL® panels or tiles to give a modern touch to your interior.
Our skirtings are 100% water resistant and shock proof, fitting into your daily home activities.
These new generation wall panels will give your interior a highly inspired new look, neat structure or coloured relief design.
Decorative ceiling roses designed to enhance the appearance of your ceiling and feature lighting and now more modernly used as a wall  decoration.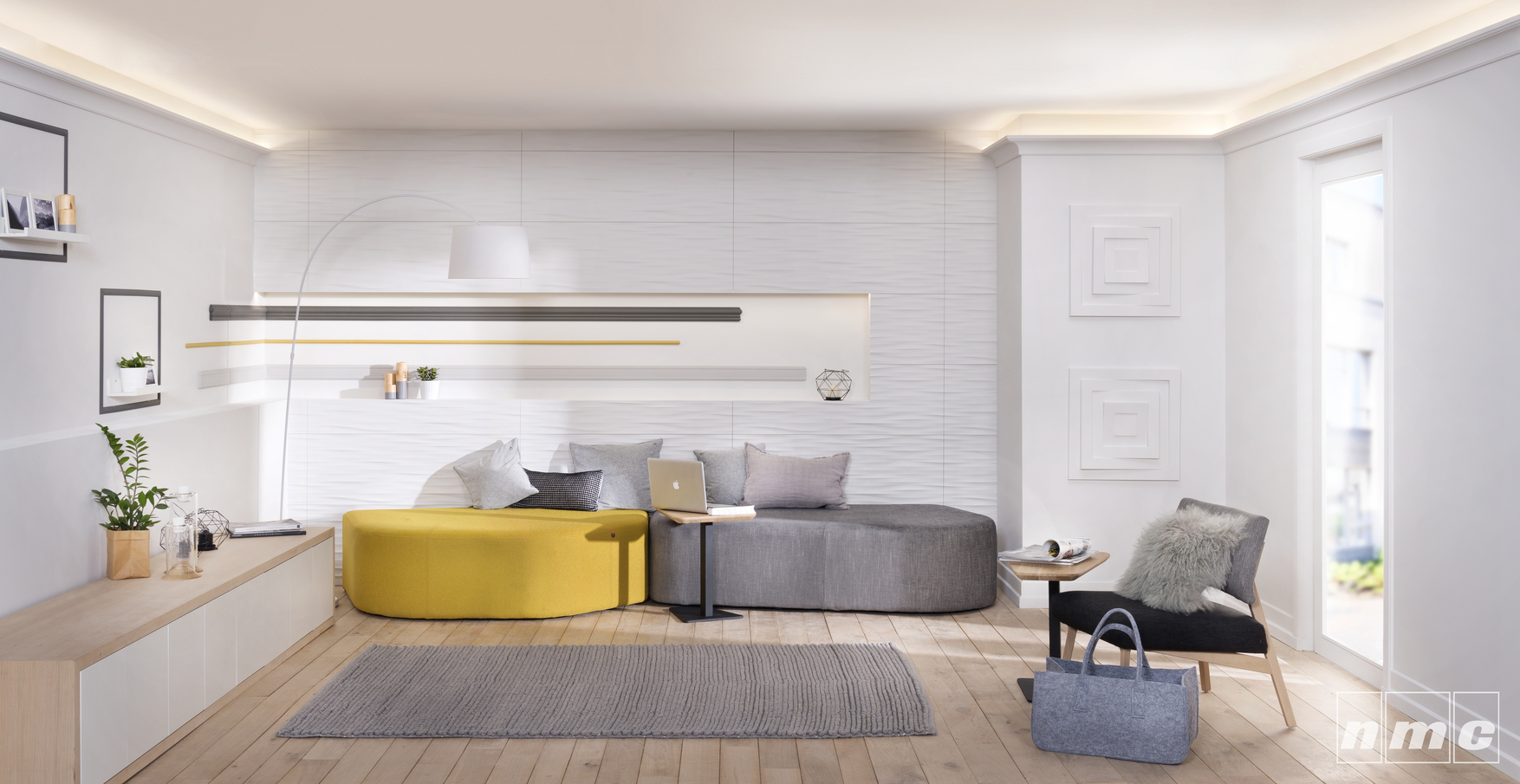 MOULDINGS FOR INDIRECT LIGHTING
With right nuances – a subtle illumination of the ceiling and perfectly it accents you will be enveloped in an ambiance of comfort and harmony.  Indirect lighting is the key to this cosy feeling and with the sleek mouldings from NMC Copley its easy to create.  Avantagarde, classical straight lines or romantic and playful, NMC Copley has the perfect mouldings for every interior.
Project Knowledge
Explore NMC Copley Decor knowledge base for inspiration, creativity, information and expertise.
NOËL & MARQUET skirting boards have been awarded the Blauer Engel, Germany's best-known ecolabel, attesting to their environmentally friendly properties: the boards are low-emission, contain hardly any pollutants and are safe for use in living quarters. The...
NOËL & MARQUET – Premium brand and inspiration for the professional The roll-out of the new NOËL & MARQUET brand has gone hand in hand with the introduction of new products on to the market which impressively underscore this new direction. The very versatile, linear and minimalistic mouldings are completely in tune with the contemporary trend towards purity of line. For direct application on the spot, though, the do-it-yourselfer is given some creative yet easy to achieve design ideas which have been exclusively developed by architects and designers, and which NMC will be regularly bringing to market as a source of inspiration.
New in the NOËL & MARQUET range: the WALLSTYL® IL10 and IL11 light baseboards – two products with numerous potential applications each. Convincing as baseboards thanks to their puristic design, they are also ideal for creative applications with LED light. They can moreover be used as highlight on walls and ceilings or door borders.
CUSTOMER SERVICE
T: 01969 623410
F: 01969 624398
E: sales@nmc-copley.co.uk